Want to improve your workflow and speed at which you can create new web pages? I have a few recommendations of software and online tools to help you do just that!
Table of Contents
Planning and Design Phase
---
Color Tools
Working with colors can be a time consuming task for a web designer or developer. Hopefully, these online tools will help speed up the process.
---
Typography
---
Photoshop
---
Code Editor
For web developers, the choice of a code editor shouldn't come lightly. A source code editor is where we spend most of our development time and where productivity is noticeably gained or lost.
Sublime Text is a sophisticated text editor for code, markup and prose. You'll love the slick user interface, extraordinary features and amazing performance. Sublime Text is available for OS X, Windows, and Linux.
Tuts+ offers a free video course called Perfect Workflow in Sublime Text 2. This is a "must watch," in my opinion. You'll be amazed by how quickly you can code with a few plug-ins and some keyboard shortcuts memorized.
I like to use the Soda Dark theme with the Flatland Dark color scheme. Here is what those look like on my Mac: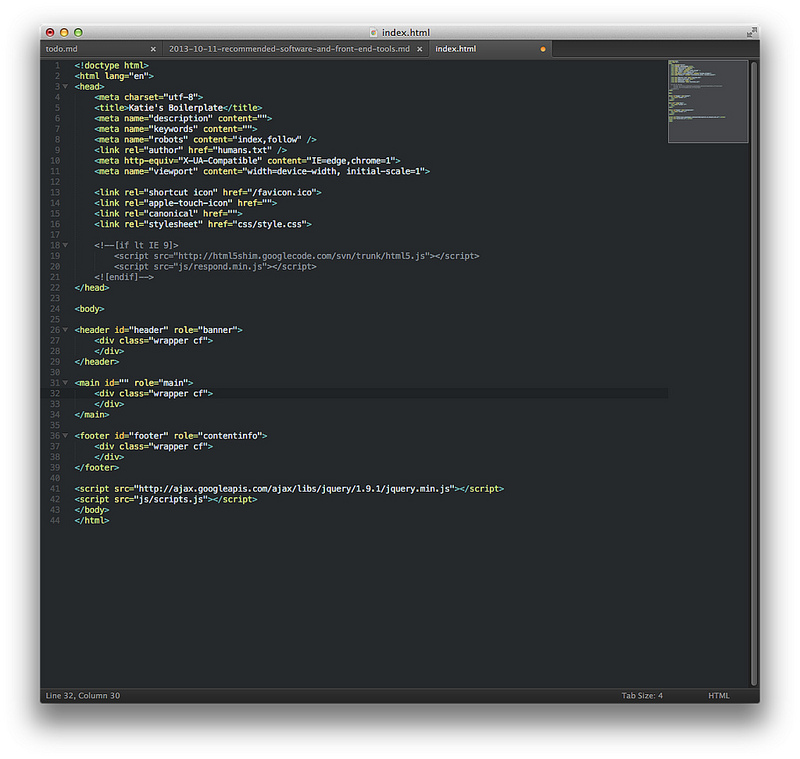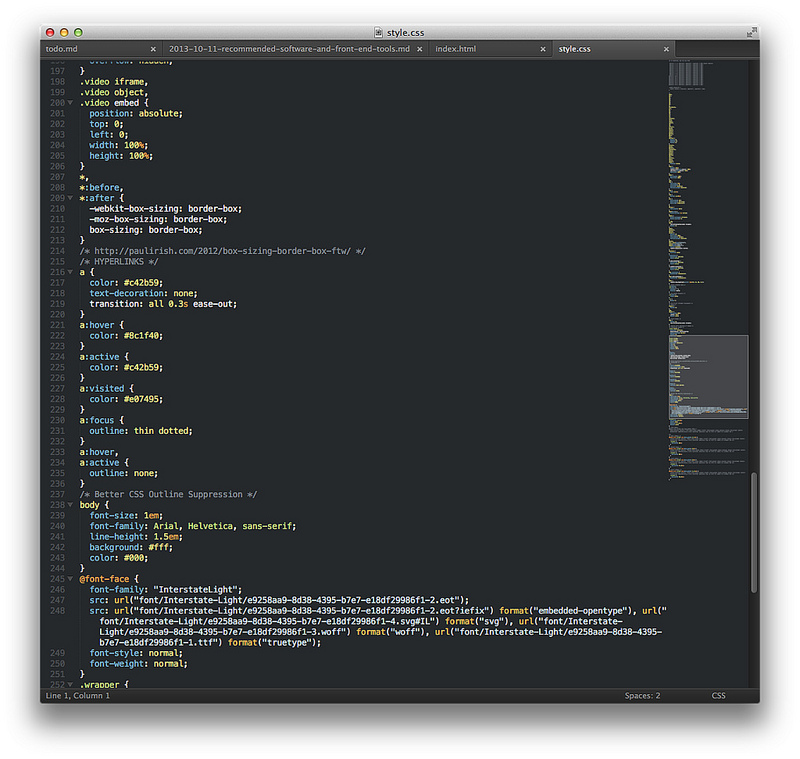 Online Playgrounds
Code editors right in your browser with instant previews of the code you write.
---
Writing in Markdown
Markdown is a text-to-HTML conversion tool for web writers. Markdown allows you to write using an easy-to-read, easy-to-write plain text format, then convert it to structurally valid XHTML (or HTML).
Markdown Tutorial - Unlike cumbersome word processing applications, text written in Markdown can be easily shared between computers, mobile phones, and people. It's quickly becoming the writing standard for academics, scientists, writers, and many more. Websites like GitHub and reddit use Markdown to style their comments. If you have ten minutes, you can learn Markdown!
---
Stay tuned for part 2!
---
Want to have your say? Send me a tweet »