Part 2 of my recommendations of software and online tools to help you speed-up and improve your workflow.
Table of Contents
Version Control
Version control is a system that records changes to a file or set of files over time so that you can recall specific versions later.
Git - Git is a free and open source distributed version control system designed to handle everything from small to very large projects with speed and efficiency. Git is easy to learn and has a tiny footprint with lightning fast performance. It outclasses SCM tools like Subversion, CVS, Perforce, and ClearCase with features like cheap local branching, convenient staging areas, and multiple workflows.
github (Free and Paid if you want private repositories) - Powerful collaboration, code review, and code management for open source and private projects. Mac and Windows GUI clients available.
BitBucket (Free account includes unlimited private repos, Paid) - Unlimited private code repositories, Git or Mercurial, lightweight code review, Mac and Windows GUI clients available.
---
Front-End Frameworks and Boilerplates
A boilerplate is a set of code that can be reused in many ways with little or no alteration. It can be used as a base – a solid foundation for your projects. Additionally, it's also a good place to learn tips and tricks about coding and it can save vast amounts of time.
---
CSS Pre-processors
CSS preprocessing is a method of extending the feature set of CSS by first writing the style sheets in a new extended language, then compiling the code to vanilla CSS so that it can be read by Web browsers. Several CSS preprocessors are available today, most notably LESS and Sass.
LESS - The dynamic stylesheet language. LESS extends CSS with dynamic behavior such as variables, mixins, operations and functions.
Sass - Sass is an extension of CSS3, adding nested rules, variables, mixins, selector inheritance, and more. It's translated to well-formatted, standard CSS using the command line tool or a web-framework plugin. Sass has two syntaxes: SCSS and sass.
Stylus - Expressive, dynamic, robust CSS.
I prefer LESS as my CSS pre-processor. I use Less.app on my Mac to watch over my folders that use .less files, and the application automatically compiles those files into CSS.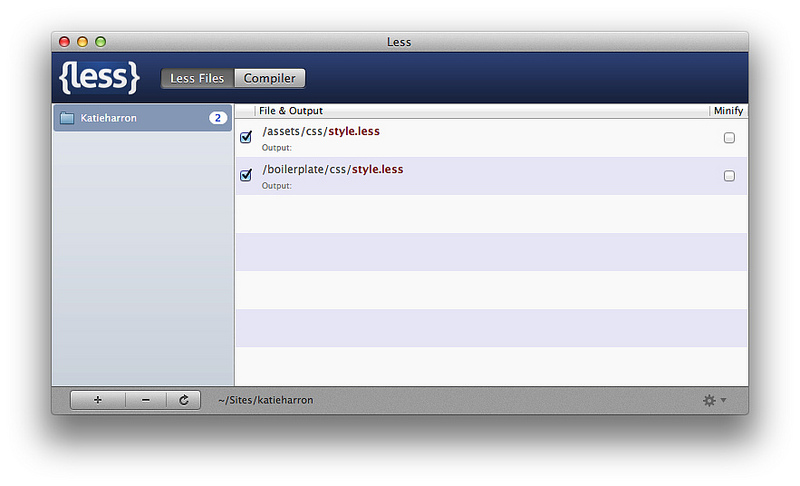 ---
CSS3 Tools
---
Speed Up Your Website and Performance Optimization
---
Image Optimization
Name your images descriptively and in plain English. Search engines also search for keywords within your file names. It can increase your on-page SEO, and help your website and images rank highly.
Use Alt tags smartly. Alt tags are a text alternative to images when a browser can't properly render them. Describe your images in plain English, just like you do for image file names. Do not keyword stuff your alt tags. Don't use alt tags for decorative images.
Reduce the file sizes of your images. Easily optimize your web images so they load as fast as possible on your page.
Use CSS sprites, instead of a collection of smaller individual background images, to improve your web page's performance. A sprite is one large file containing multiple images for your website, saving loading time as the server only has to send one image instead of many small images. Through CSS, you can display any segment from that file as a background to an element.
My favorite image optimizer is ImageOptim, and I have it installed on all of my Macs. Here's a screenshot of it compressing the images for this article:
---
Code Minification
Minification is the practice of removing unnecessary characters from code to reduce its size thereby improving load times. Compressed javascript and CSS files are ideal for production environments since they typically reduce the size of the file by 30-90%. Most of the filesize reduction is achieved by removing comments and extra whitespace characters that are not needed by web browsers or visitors.
---
Checklists
With lists covering multiple areas from content to usability to accessibility to standards, you're a lot less likely to overlook important parts of a site.
---
Responsive Email
---
Device Mockups and Displays
When you've finished creating a site, you want to show it off, right? These tools allow you to view your designs or web pages in actual devices.
---
Online Lectures and Web Conference Videos
---
Infographics
A picture is worth a thousand words…
---
Want to have your say? Send me a tweet »